Hey friends! Well Thursday in Hawaii was Prince Kuhio day, which is a state holiday, meaning that I didn't have to work! Since I rarely get the chance to watch TV, I tuned in to the Fine Living Network, where I enjoyed watching the show "Bulging Brides."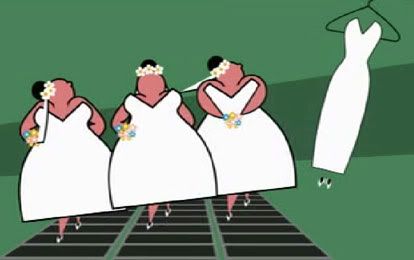 Each episode of the show focuses on one woman and her quest to look great in her wedding dress. They start off by weighing the bride, taking her bust, waist and hip measurements and then making her try on her dress, which normally doesn't look very good! They take an unnatractive picture of her in the dress to serve as motivation and then she starts the reformed diet and exercise regime. At the end of the four or six weeks, the bride and her fiance do a final challenge together (10k, 20 mile bike ride). By the end of the show, they weigh her, take all of her measurements and tell her how much she's lost. The moment of truth is when she tries on the dress!
Has anyone seen this show? Do you like it? What are other people doing for bridal body beauty?